Once you have created a profile, additional items can be added such as notes, tasks, and files. Below you will find a brief overview of what a CRM profile contains.
Send an Email to a Profile
Click Communicate in the upper-right corner to communicate with the profile through an email.

Profile Tab and Designations
Profile Tab
The Profile tab lists any additional information recorded for the profile. Click Edit to update information on this tab.
Up to three addresses, phone numbers, and email addresses can be added.
The primary address, phone number, and email are indicated by the blue radio button.

For organizations and households, the preferred name is automatically set as the primary contact. This can be manually changed within profile details.

The SSN (Social Security Number) field is only available on individual profiles.

All nine digits of the SSN can be viewed by users with admin role permissions.

Hover over the SmartTips (question mark icons) in the system for field guidance.
Custom fields are located at the bottom of the tab.


Designations
One or more of the following designations can be added to a profile when it is created or by editing the profile.
Attendee
Donor
Funder
Member
Participant
Prospect
Vendor
Volunteer
If designations are assigned to a profile, they appear as tabs next to the Profile tab. Any custom fields associated with a designation are located within its tab on the profile.

Revenue Summary, Notes, and Tasks
Revenue Summary
Displays revenue received from the profile.

Revenue that has posted will appear here. Any revenue that has not been posted or has been deleted will not show.
Notes
Capture information for staff that can be directly added to a profile.

Active notes are those relevant to the profile.
Inactive notes are those no longer relevant to the profile.
Tasks
Reminders for specific actions that need to be completed.

Active tasks are tasks that are still relevant and have an upcoming due date.
Inactive tasks are tasks that are no longer relevant, have been completed, or their completion due date has passed.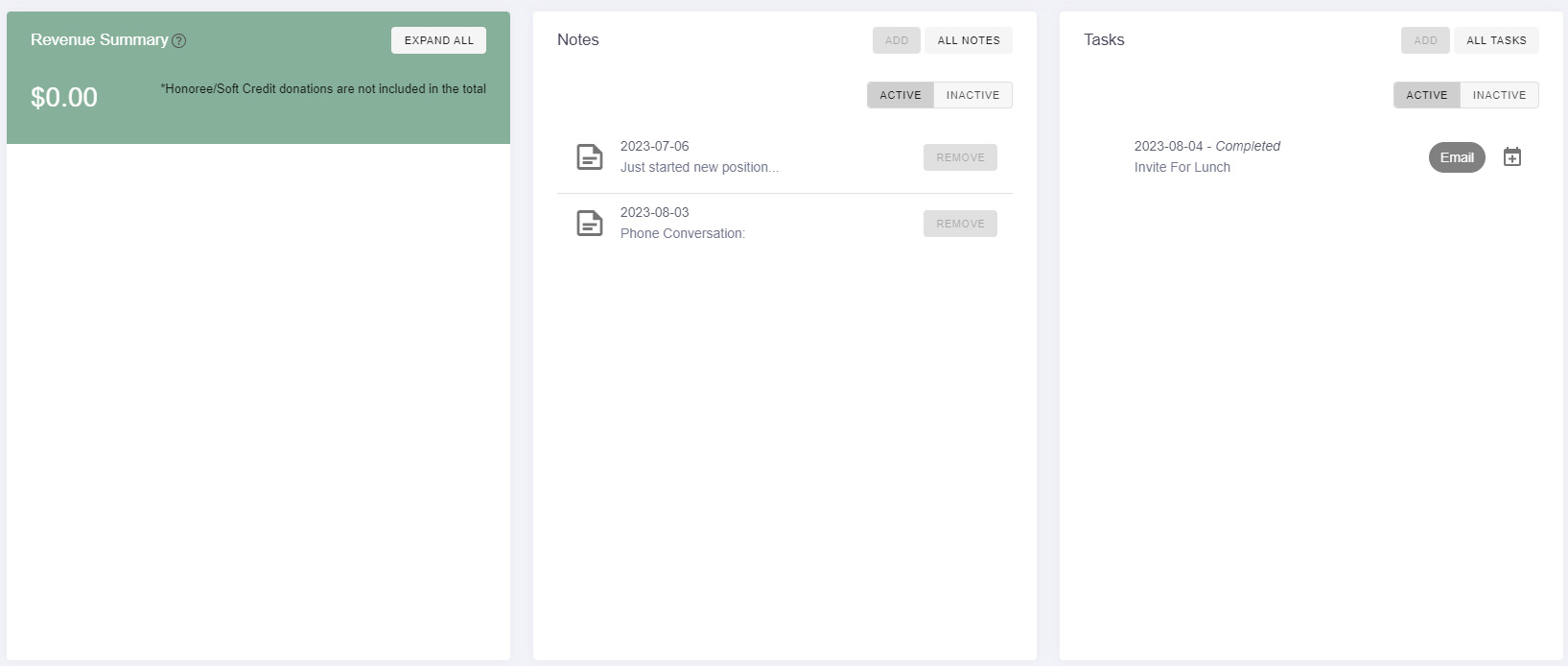 Expense Summary, Relationships, and Communication History
Expense Summary
Shows expenses the nonprofit has incurred from the profile.

Expenses that have been posted will appear here. Any expenses that have not been posted or have been deleted will not show within Expense Summary.
Relationships
Show a connection to another profile within CRM.

Example: An individual profile can be connected to a household profile because they are part of that household, or an individual profile can be connected to an organization profile because they work or volunteer for that organization.
For organizations and households, the preferred name is automatically set as the Primary Contact if the organization or household has a primary contact.

The primary contact for the organization or household can be selected within Relationships.
Communication History
Shows any email correspondence that the nonprofit sent to the profile.
Files, Lists, and Opportunities
Files
Can include images, .pdf files, text files, Word documents, and Excel files (both .xlsx and .csv files are accepted).

Audio and video files cannot be uploaded.
Uploaded files must be less than 25mb.
Files can be removed or downloaded from a profile.
Lists
Shows what lists on which the profile is a member.

Click Add to add the profile to a new or existing list.
Click Remove to remove the profile from a list.
Opportunities
Shows opportunities associated with the profile.

The opportunity type, status, due date, and progress are visible.
Click the Opportunity Name to navigate to the opportunity.

Profiles and Communication Video