Your GrantHub Site Key is used to identify your GrantHub account when copying grant opportunities from funder sites into your GrantHub account.
You do NOT need to have a GrantHub Site Key to apply to a funder. This is only used to help you quickly copy the grant details into your GrantHub account. If you don't have an account and would like to learn more about how GrantHub can help you track and manage your grants, please click this link.
Your GrantHub Site Key can only be set by your GrantHub Administrator. The Site Key is found by logging into GrantHub and accessing the My Organization area under the blue Welcome menu in the upper right of your screen.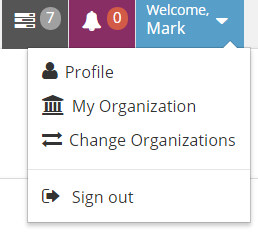 Select the 'Basic Info' tab to find the Site Key field.

If you need to create your GrantHub Site Key, it is recommended you use a short name or phrase that is unique to your organization and easy to remember.
Your Site Key is what you use to identify your GrantHub account when you are copying details about grants you wish to apply to, into your GrantHub account as an Opportunities. At this time, this capability is only available if you are applying to a funder who is using Foundant Technologies' Grant Lifecycle Manager (GLM) software to accept applications online. NOTE: A GrantHub account is not required to apply to a funder who is using GLM.
How to copy a grant program to an opportunity in GrantHub contains instructions on how to identify funders who have this capability available and how to copy their grant program into an Opportunity in your GrantHub account.