Each user in the system, both internal (e.g. administrators, board members) and applicants, has a User Summary page. This page houses contact info, request history, and any comments or documents specific to that user.
The User Summary page in Grants Lifecycle Management (GLM) contains a tab reflecting Organization information. Scholarship Lifecycle Management (SLM) does not.
You can access this page by clicking on the user's name from:
Any workload page where the user has an active request.
The Search Users page by clicking the user's last name.
The contact tab on any form where the user is the owner of the form.
The contact tab in a request summary when the user owns the request.
When accessing the User Summary page, you land on the User Info tab by default. Click the other tabs to view each User Summary category. A description of the actions and information available in each tab is listed below.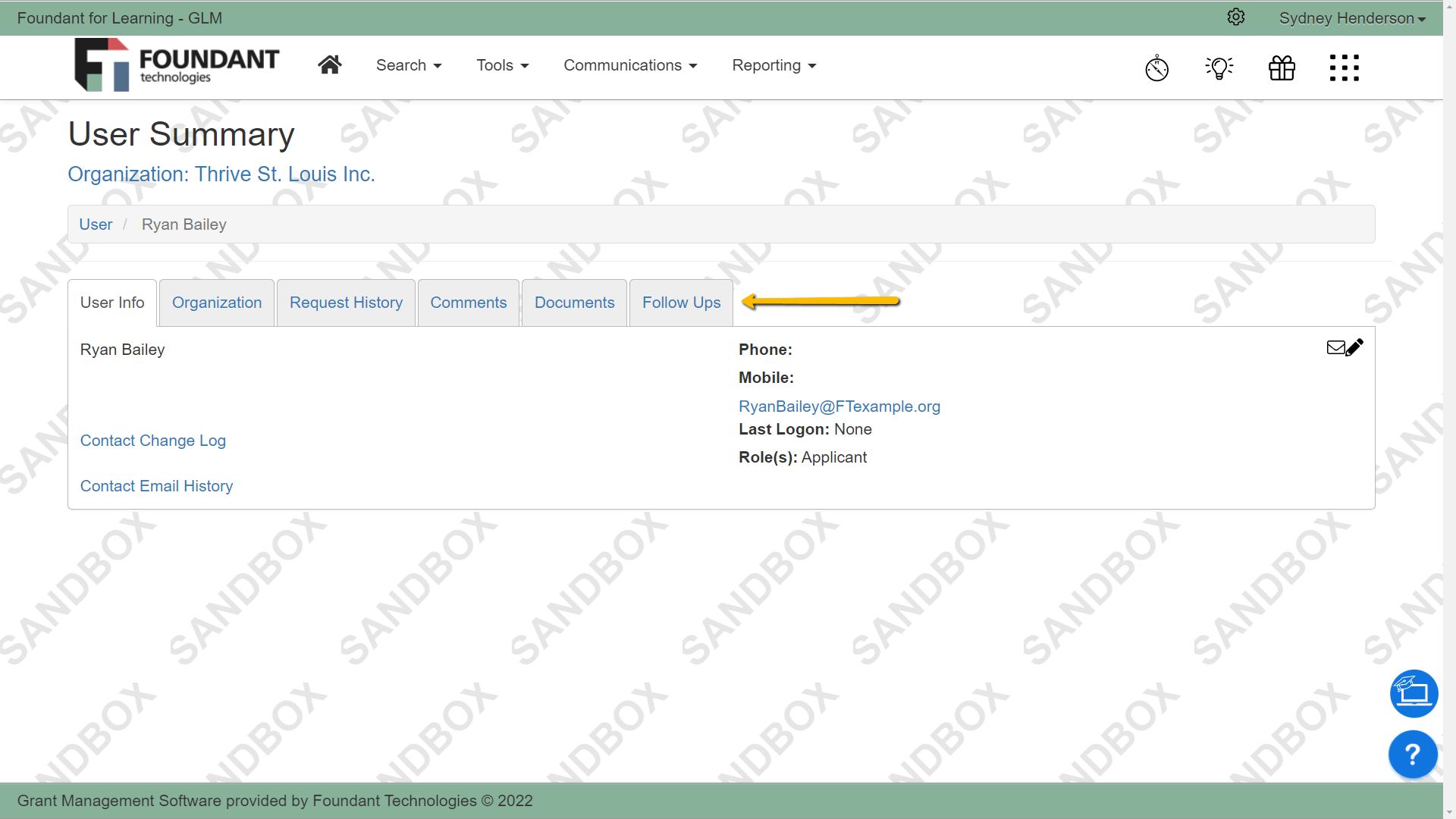 User Info Tab
Edit the user's contact information.
Send them an email.
View the Contact Email History.
View the user's last logon date and user roles.
View the Contact Change Log.

This displays any changes made to the user's account such as updates to their contact information or their user role.
Organization Tab
Edit the organization contact information.
View the Organization Change Log.
View the Organization Email History.
Request History Tab
View all of the requests the user owns.
You may also manually enter a request for this user via the Create Request button.
Comments Tab
View, edit, and delete and previously recorded comments.
Record new comments.
Documents Tab
View, edit, and delete and previously uploaded documents.
Upload new documents.
Follow Ups Tab
View the follow ups that are assigned to the user.
Currently, this page is only visible to users with the administrator role. This includes grants managers and auditors.