After creating an annual budget for your funds, Financial reports can show your budget estimates against your actual revenues and expenses.
Compare Budget to Actual
Navigate to the Financials page and click Income Statement in the left-side menu.
Click on the date options or select a Static Start and End Date from the calendars, and then click Show Date.



Click Edit Options in the left-side menu.
Select Budget from the Column Option, and then click Save.

The Statement of Activities displays the Actual next to the Budget along with Variance and Percent.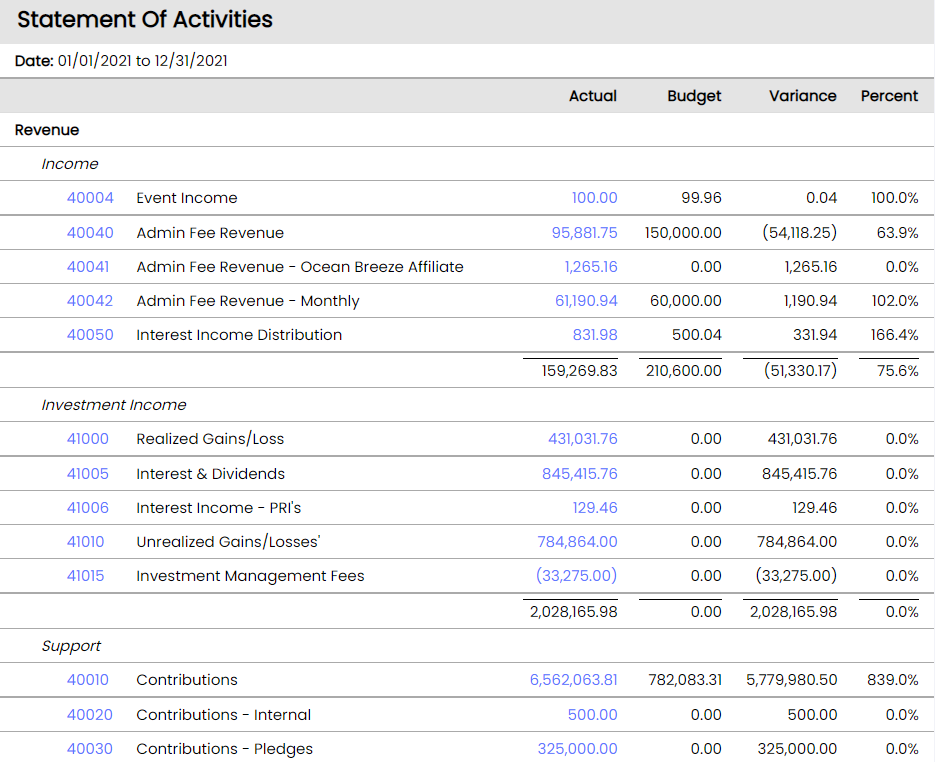 Click Show Fund in the left-side menu to see the funds that make up the total.

The Actual numbers show the fund totals for all the Foundation funds, including the ones that do not have a budget associated to them.

Add Filter
Filters can be added to further refine the report results.
Operating Fund Example
After completing the above steps, click Add Filter in the left-side menu.
Click the Fund Financial Filter.



Search for and then select the fund name. Click Apply Report Filter.



Click Save Report in the left-side menu to access the resulting report at a later date.
Enter a Saved Name and click Save.

YTD Budget (Year to Date Budget) is another useful report that can be run quarterly when you want to see how much budget you have left for the remainder of the year.