Add a Campaign
Navigate to the Campaigns page.

Click Add Campaign on the left-side menu.



Click the drop-down menu, and select a Campaign Group.



A campaign group must be created before you can create a campaign.

A campaign group is a specific type of event that your foundation hosts, or mailing that your foundation delivers.

Select a Campaign Date, enter a Description of the campaign, then click Create.




Edit a Campaign
Now that you've created a campaign, you can fill in the details.
Click Edit in the left-side menu.



Make appropriate updates, then click Save.




Ticket Receipt Template

If you've created a ticket receipt template in System Data, click the drop-down menu and select the template for this event.
If any ticket receipt template has been uploaded to System Data and you do not select a template from the drop-down, the campaign will use the default ticket receipt template.

Service Area

Service Areas are used to filter data by a specific geographic area. If you've created service areas, click inside the Service Area box and select from the list.

MailChimp List

Mailchimp List only appears if your site has been synced to a Mailchimp account.
Click [Choose] and type in a tag name then click Save.

Tags must be unique per campaign.

A warning appears. This warning notifies you that if you move forward by clicking [Yes], any members of your Mailchimp audience that is synced with CommunitySuite and does not already have a tag will be removed from your Mailchimp audience. If all Mailchimp audience members are already tagged, click [Yes].

Clicking Yes is not the final step to sync to Mailchimp. More instruction is provided later in the article.

Fund

Money from ticket sales will be directed to the selected fund.
If you need this campaign to appear online, add Fund even if your tickets are free. It is required to appear online.

Online Tickets

If the box is checked, campaign tickets will be available for purchase in the Event Tickets tab of the Online Donation Portal as long as the Hide Event Tickets Tab box is unchecked in System Data Settings.

Private Campaign

Check this box to prevent your campaign from being listed in the Event Tickets tab of the Online Donation Portal.
This will create a private URL on the campaign page that you can send to invitees.

Ticket Header

Text entered in this box will display below the campaign description in the Event Tickets tab of the Online Donation Portal.

Start Time

Time that the campaign will start. If a Start Time is not specified, the campaign will run for 24 hours, starting at 12:00 AM on the date selected.

Location

Where the campaign/event is taking place.
If you want this campaign to be available for online ticket purchases, you must assign a Fund, check the Online Tickets box, and create at least one event ticket that has a Revenue Account.
If this campaign appears online, preview the online page for accuracy after finalizing campaign edits.
Mailchimp Integration
If you added a campaign tag to sync this campaign to Mailchimp, two additional columns (Mailchimp Status and Sync to Mailchimp) appear in the Invitees section.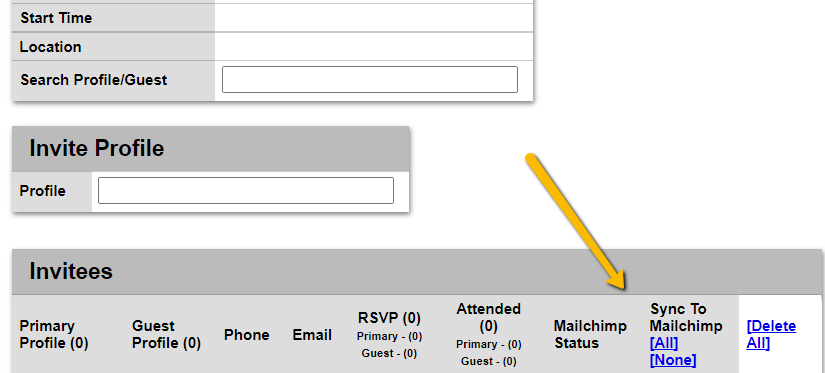 You can either manually select profiles to sync, or click [All] to sync all profiles in the campaign list that have an email and are not marked Do Not Email.