Our Online Event Ticket page allows anyone to purchase Event Tickets from any browser once a Campaign with tickets is created.

A person can go to the Online Donations page and select the Event Tickets tab
They will select the hyperlinked event name they are interested in from the Purchase Tickets/Register for Events list
They will then select the Name of the ticket they would like to purchase
Next, the ticket purchaser will enter how many tickets they would like and click the Add To Cart button to continue

If purchasing a complimentary ticket or registering for an event the Price and Total Amount fields will not be visible.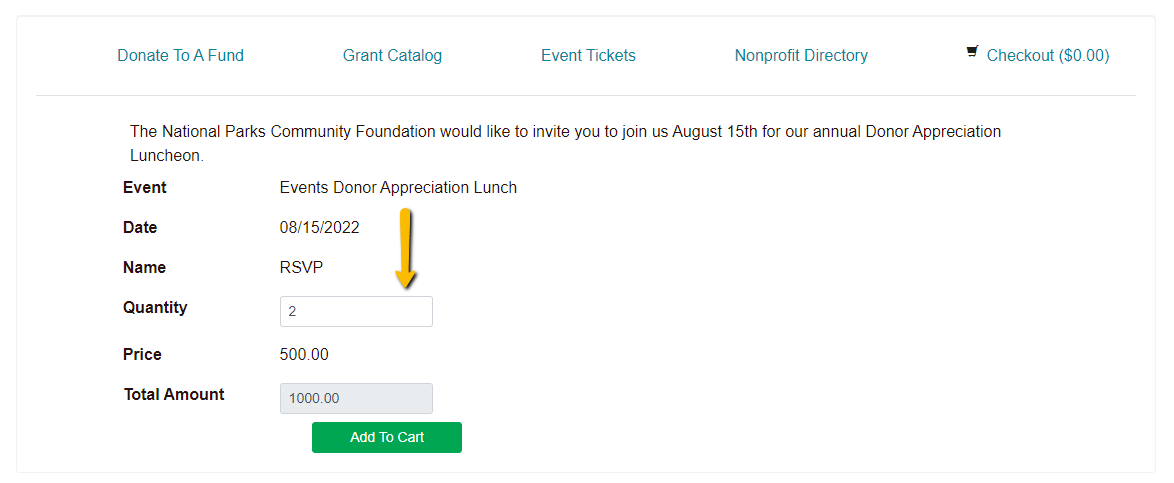 The purchaser/registrant can then select the Checkout button if they are ready to purchase the tickets or register for the event.
On the following page, they will choose if they are an Individual or an Organization by picking the radio button.

If an individual, they enter their First & Last name, plus a valid Email address & a 10 digit Phone number.

If an organization, they will need to enter the name of the organization, plus valid Email address & a 10 digit Phone number.

Next step, select the Review button.

If registering for an event or complimentary ticket they will select the Submit Registration button and then can assign Guest names and details to the tickets.

If purchasing tickets, this begins the process to pay for the selected tickets using the Stripe Credit Card online payment interface.


After reviewing the total payment. the purchaser will select the Pay with Credit Card button.
The ticket purchaser will go through the Stripe payment process where they will enter their address information
They will then enter their Credit Card information and select the Pay button to proceed
After they have paid using their credit card they will see the "thank you" page.
The ticket purchaser will need to select the Assign guests button at the bottom of the page to add a guest for each ticket.