Profile designations are additional layers on a profile that house specific types of transactions or information. Designations reside in the Profile Is section of a profile.
A profile can have any combination of designations. The profile designation options are as follows:
Customer - A profile that you bill and accept payment from.
Donor - A profile that has donated to your organization.
Fund Advisor - A profile that needs fund statements and/or access to the fund advisor portal.
Grantee - A profile to which you pay a grant.
Nonprofit - An organization profile that you want to flag as a nonprofit and/or list in your nonprofit directory.
Student - A profile to which you pay a scholarship.
Vendor - A profile that bills you.
Affiliate/Supporting Org - A profile your organization has designated as an affiliate, or a tax exempt charitable alternative to a private foundation.
Profile designations appear in the Profile Is section of a profile. This profile has Donor, Vendor, and Customer designations. The Grants Lifecycle Manager/Scholarship Lifecycle Manager (GLM/SLM) icon next to the Foundant Sites and Addresses fields shows that this CommunitySuite site is synced with a GLM/SLM site and this is the address that is synced.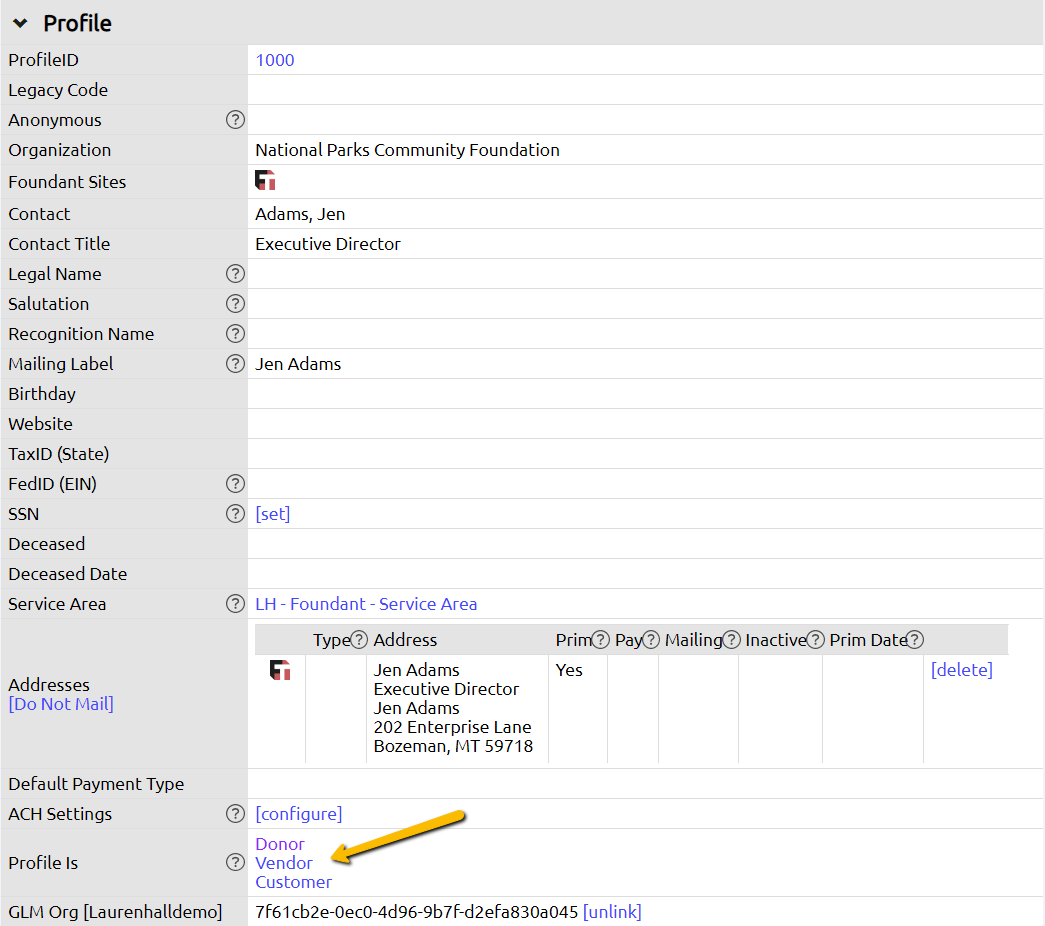 Add Designation to Profile
Navigate to a profile.
Click Designation in the left-side menu.
Click Make Donor, Make Fund Advisor, Affiliate/Supporting Org, Make Vendor, Make Customer, Make Grantee, Make Student, or Make Nonprofit in the left-side menu.

Only options for designations not already present on the profile will be listed in the left-side menu.
Affiliate/Supporting Org only appears on organization profiles.

Once a designation has been created, click the designation and enter in additional details if necessary.
Each designation has different types of information. Designations with transactions will have a transaction summary table and individual transactions.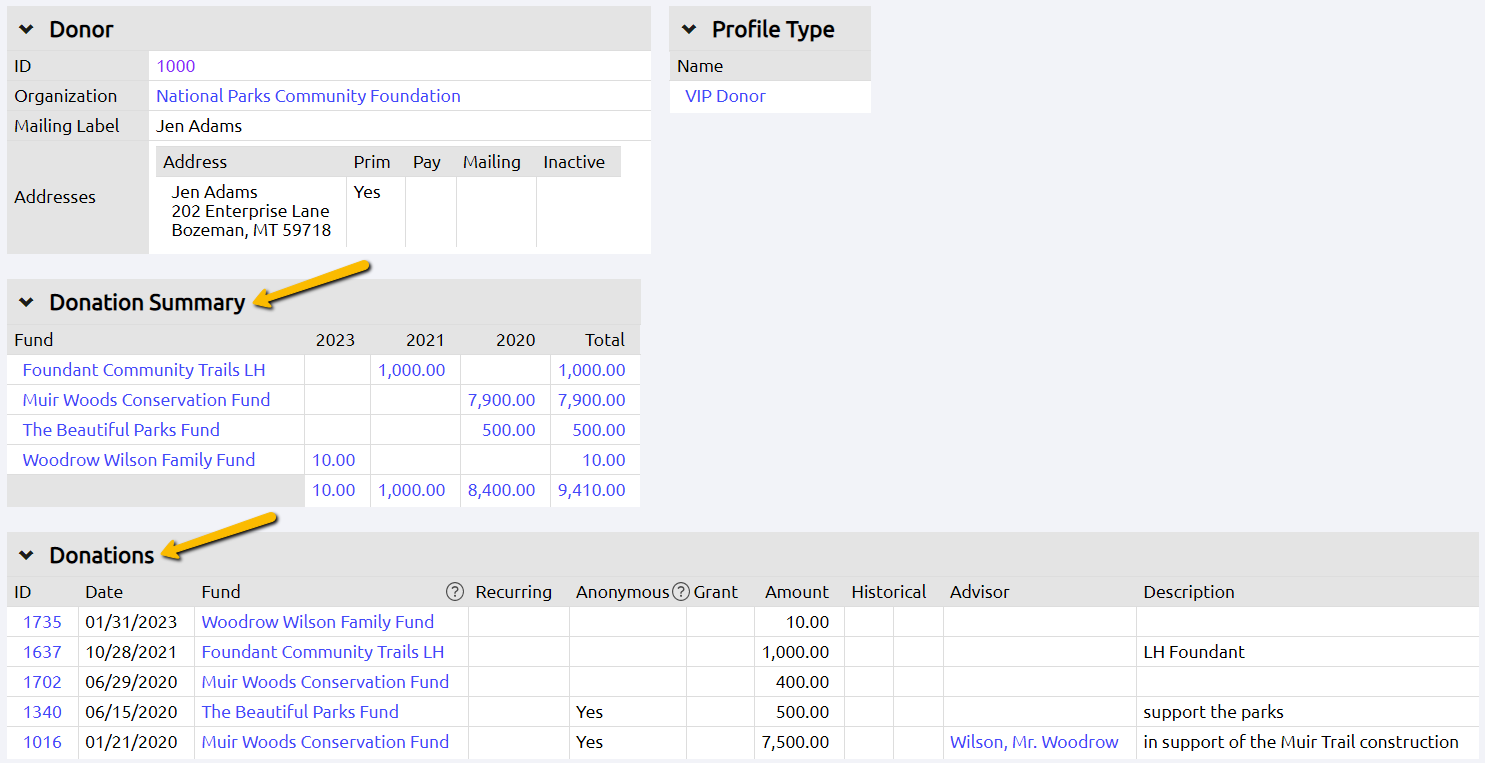 Designation Details
Unless otherwise noted, the steps for editing profile designations are below.
Navigate to a profile designation.
Click Edit in the left-side menu.
Make the appropriate updates, and then click Save.
Many fields in the designations have SmartTips (question mark icons) that provide field guidance.

Customer
The customer designation lists all invoices from this profile. You can add or edit the item listed below.
Terms - Terms of the bill sent to the customer.
Donor
The donor designation lists all donations from this profile. It also has a section for donations that the profile was the donation advisor on, where applicable.
Household donor designations show their own direct and advised donations, as well as the direct and advised donations of each household member.
Fund Advisor
The fund advisor designation enables a profile to receive fund statements and/or gain access to the fund advisor portal. Information about the fund advisor designation is detailed in Create and Edit Fund Advisor Profile.
Grantee
The grantee designation lists all grants awarded to this profile. Items you can add or edit are listed below.
No Charity Status Check - Disable or override the Guidestar Charity Check by checking No Charity Status Check checkbox. This bypasses the charity check which can be useful for entities like schools or universities which would not pass.
Last Financial Date
Public Requests - Allow the grantee to be listed on the public requests grant catalog page by selecting the Public Requests checkbox.
Default Grant Type - The value set in default grant type will default on grants that are created for this grantee.
Is School

Schools are designated as grantees for scholarship processing in CommunitySuite.
When you make a grantee inactive by clicking Set Inactive in the left-side menu, the grantee is suppressed from grantee search results in the fund advisor portal; however, it is still possible to manually process a grant for the inactive grantee.
The vendor designation is made inactive when the grantee designation is made inactive, and vice versa.
Grantees can also be made inactive in bulk.
Nonprofit
The nonprofit designation enables a user to filter their profiles for nonprofits. It can also enable the profile to be listed on the organization's public facing nonprofit directory. Details about the nonprofit designation are detailed in Nonprofit Directory.
Student
The student designation lists all scholarships to this profile. Left-side menu options that add information to the student designation include the following:
Set Inactive - Make the student no longer active to receive scholarships.
Add Student Number
Edit Student Numbers - Edit existing numbers or add another school and associated Student ID Number.
Vendor
The vendor designation lists all vouchers for this profile. Items you can add or edit are listed below.
Account Number
Website
Terms
Default Account
Voucher Allocation Table
Need 1099 - Indicates whether a vendor needs a 1099 form.
The vendor designation is automatically added to a profile whenever you make a profile a grantee or student since the transactions on those designations require vouchers.
Affiliate/Supporting Org
The affiliate/supporting org designation is the first step in enabling the affiliate portal. Affiliate Portal provides details about this designation.