Checks that have been posted and issued can be voided; however, once a check is voided, the voided status cannot be reversed.
Under no circumstances should journal entries associated with voided checks be deleted. Bank statements cannot be reconciled if any of the associated journal entries are deleted.
Electronic Checks cannot be voided.
Void a Check
If the check you want to void is a historical check, follow guidance provided in the section below.
Navigate to the Checks page and click an Account.



Click the Posted Checks Bucket.



Click the CheckID of the check you want to void.



Click Void in the left-side menu.
Click Yes.

The voided check will be listed in the Voided/Unused Checks Bucket. It will also remain listed in red in the Posted Checks Bucket designated as voided.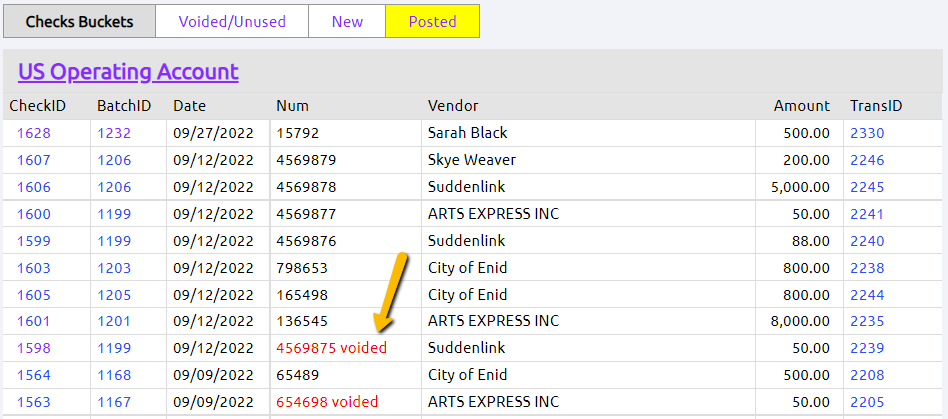 The voided check will now list two transactions for the journal entries that were made.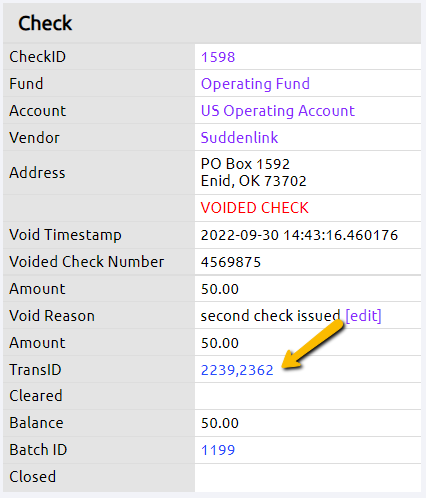 Add a Void Reason
Navigate to the voided check record.
Click [edit] in the Void Reason field to add the reason the check was voided.


Enter the Void Reason, and then click Update.


Void and Reissue a Historical Check
To void and reissue a historical check, follow the instructions in Create, Post, and Pay a Voucher. Select the vendor associated with the historical check. When adding Items to the voucher, select the bank account from which the original check was written rather than the expense account.

This will create a payable that the new check can be attached to and does not affect net income. It will also allow you to offset the old check on the bank reconciliation.
If you are not reissuing the check, then use a journal entry, making sure to debit cash and credit expense.
If you have any questions about voiding historical checks, please contact
Support
.