Distribution Types, sometimes known as spending policies, define how the spendable balance of an endowed or quasi-endowed fund is calculated.
Endowed funds are funds with a principal balance and a spendable balance (i.e. a certain amount of money that can be granted out every year or every quarter). Quasi-endowed funds are non-endowed funds that do not have an actual spending limit but are given a spending policy for management or other purposes.
Traditional endowed funds will be the focus for this article.
Components of Distribution Types
There are three main components of distribution types.
Type - How the spendable balance is calculated.
Percent - How much of a fund's balance can be spent.
Calculation Base - Type of fund balance that will be used to make the calculations.
Type
The Type field defines the type of calculation that will be used to calculate the spendable balance of a fund. The type that is selected dictates which fields need to be completed in the Options area.


avg_per_qtr - Average Per Quarter calculates the average of quarter-end balances over a set number of quarters. The average is then multiplied by the percent field.

This option is often used for funds with large balance fluctuations because it has the effect of "equalizing" the calculation.
When average per quarter is selected, then enter the number of trailing quarters.



avg_per_yr - Average Per Year calculates the average of year-end balances over a set number of years. The average is then multiplied by the percent field.

When average per year is selected, then enter the number of trailing years.




percent - Percent calculates a percentage of the fund balance.

This option does not use averages but instead calculates as a spot time.



Percent
The percent field defines the percentage of a fund balance that can be spent. This must be defined for all types.
Enter as a decimal (Ex: .02 = 2%)


Calculation Base
The Calculation Base refers to the type of fund balance that the system will look at when calculating the spendable balance of a fund.
If you do not have all five choices available in the Calculation Base drop-down, then restrictions are not set.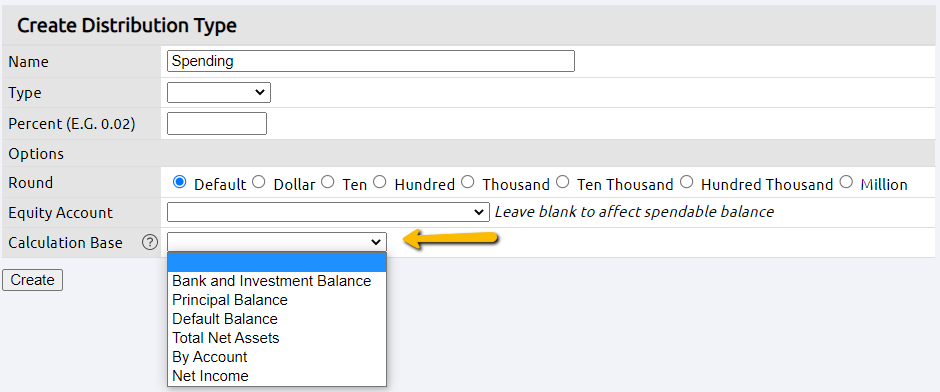 Bank and Investment Balance - Looks at fund assets that are specifically held within bank and investment accounts.


For example, if you had an illiquid asset (such as a life insurance policy) held within Other Current Assets, you could use the Bank and Investment Balance option to exclude the Other Current Assets account from the calculation and prevent your distributions from being inflated by the illiquid asset.
If the Calculation Base field is left blank, then Bank and Investment Balance will be used.

Principal Balance - Looks at the endowed portion of a fund.
Default Balance - Looks at the retained earnings of a fund.
Total Net Assets - Looks across all asset accounts.
By Account - Checks the designated accounts and calculates a spendable balance based on these accounts rather than a specific percentage.
Net Income - Looks at the previous year's net earnings.