Questions on forms can have any of the following visibility options: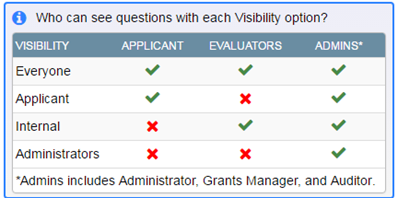 Everyone

Completed by applicant
Can be "Shared Question"
Appears in all print packets
Visible to all users.

Admin Only

Completed by administrators.
Can be "Shared Questions".
Included in Administrator Print Packets only.
Visible to:

Applicant Only

Completed by applicants.
Visible to:

Applicants
Administrators

Not visible to evaluators.
Can be "Shared Questions".

Internal

Completed by administrator
Visible to:

Administrators
Evaluators
Question visibility labels will appear on the form in the Form Builder



This information can also be found by hovering on the blue question mark icon to the right of the Visibility drop-down menu.