The Eligibility Center is a page that allows you to search for, view, and manage eligibility results. The Eligibility Results and Universe Requests tabs on this page give you specific search and action options. The other tabs on this page are for use with the Eligibility Quiz feature, and do not function with the Universal Application feature.
To access this page, click Search in the upper navigation bar and then click Eligibility Center.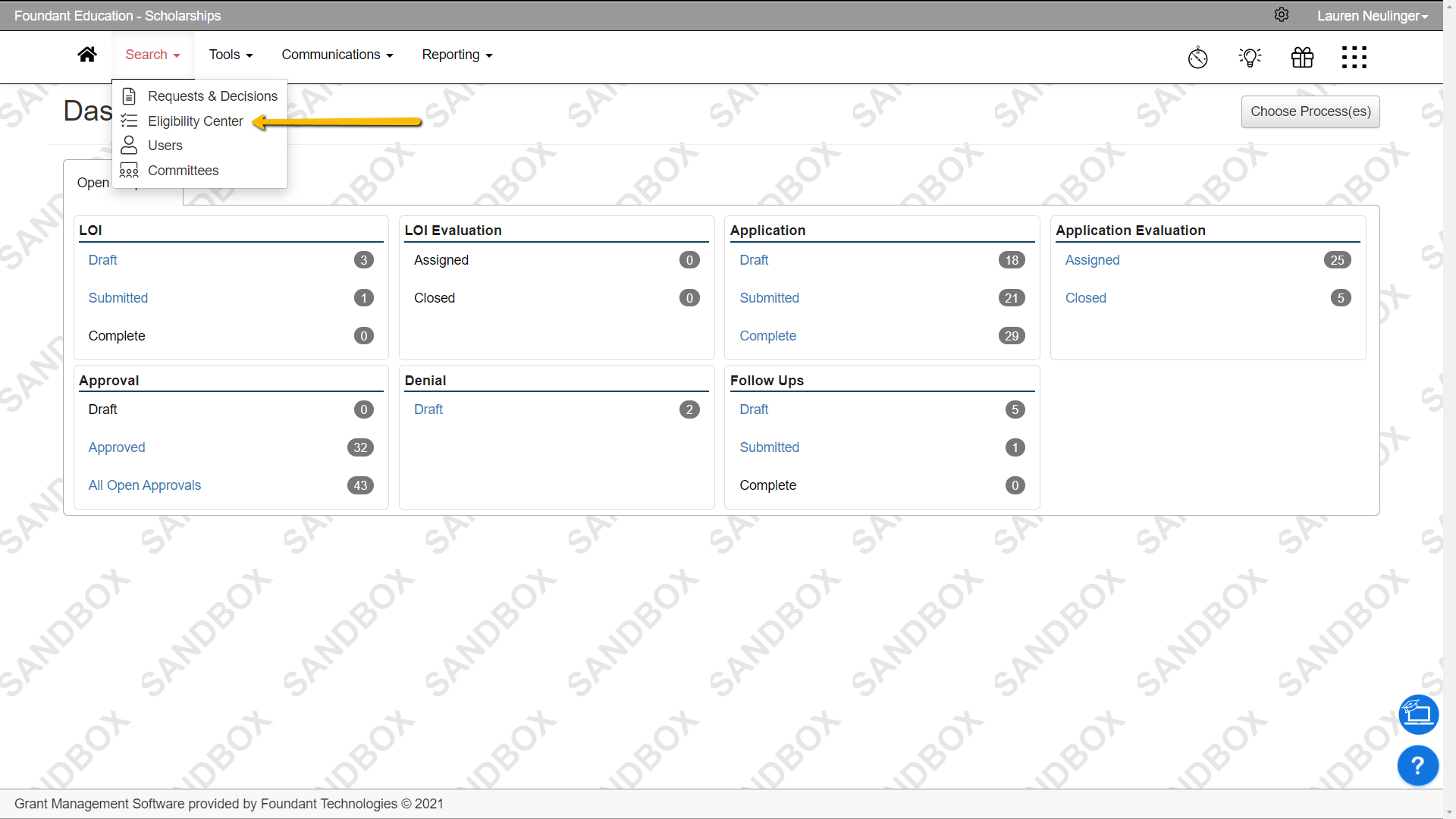 Eligibility Results Tab
The Eligibility Results tab allows you to view applicants' eligibility results and retest eligibility if needed. You can search for a specific applicant by name, or based on criteria such as a date range. Please be aware that after clicking Search it may take a while to load, depending on the search criteria you have entered.
At a minimum, you must enter dates into the Pass/Fail After and Pass/Fail Before date fields before searching eligibility results.
The eligibility results display in a one row per opportunity format. For each applicant in your search, you'll see their pass/fail result for each opportunity within a universe.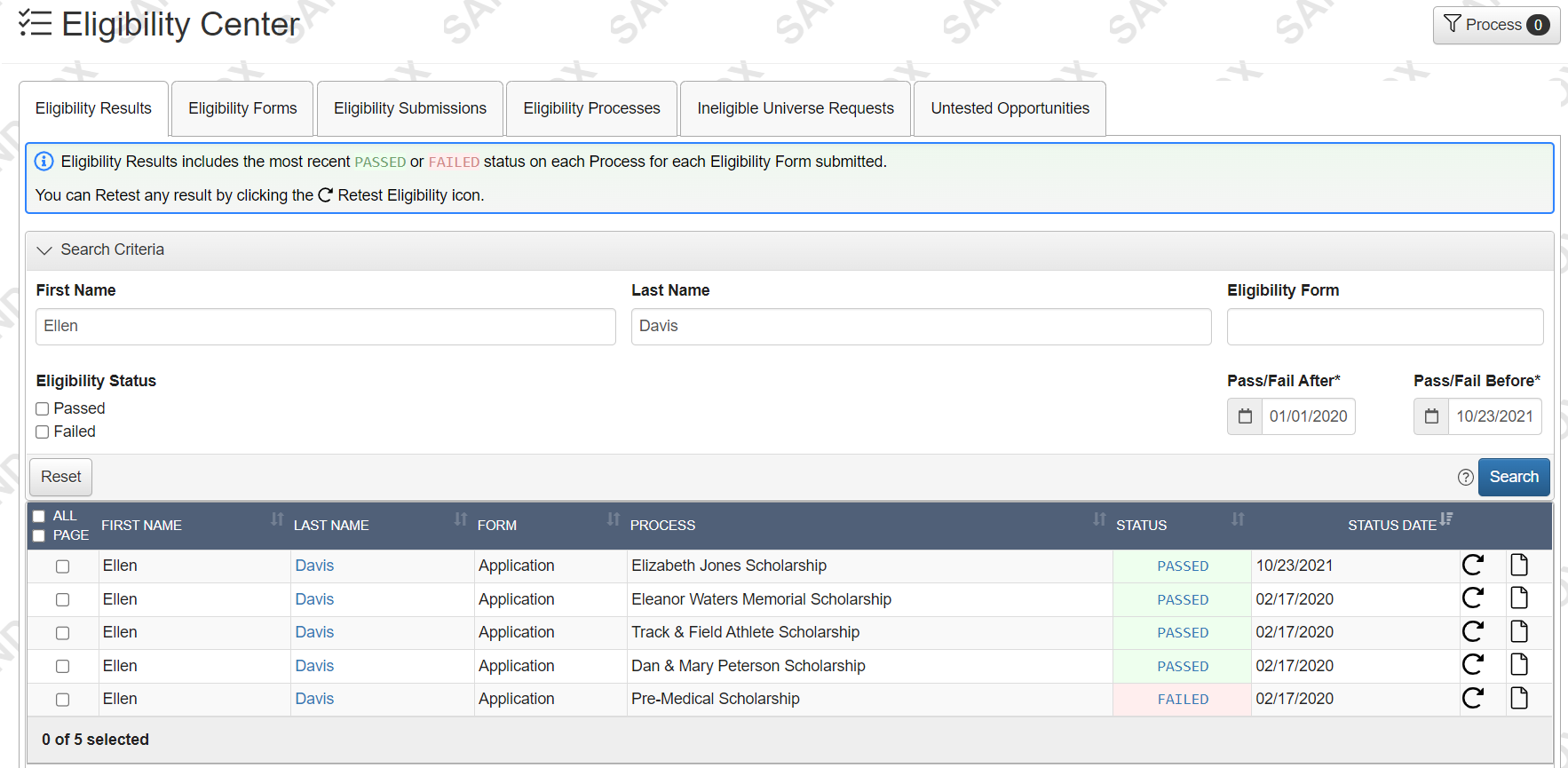 On this tab, you can also:
Send a batch email.


Perform a quick export.
Click an applicant's last name to navigate to their User Summary page.


Click a Passed or Failed status to see details related to the eligibility rules.



If you click a Failed status, the message will display details about which specific rules the applicant did not pass.
The message will also inform you if the applicant's responses to eligibility questions or the eligibility rules themselves have been changed since the current status was generated. If this is the case, it's recommended that you retest eligibility for the applicant to see their most up-to-date status for the opportunity.

Retest Eligibility
Retesting eligibility for an applicant tells the system to check the applicant's responses against the eligibility rules for an opportunity again. This is often done if you've corrected an applicant's response to a question used in eligibility rules, or if you've changed an eligibility rule.
Retesting can be done for one or more applicants, and you can retest for one opportunity or multiple opportunities in a batch.
Override a Failed Eligibility Status
On this tab, you also have the ability to override a failed eligibility result for an applicant. Universal Application: Override Failed Eligibility Status contains instructions.
Ineligible Universe Requests Tab
The Ineligible Universe Requests tab allows you to view any universe requests submitted by applicants who were found ineligible for all opportunities in a universe. These applicants' requests would not have been visible on your dashboard once they submitted their universe request (the common portion of the application).

If you would like to retest an applicant's eligibility, click the Eligibility Results tab. You can then search for the applicant, view their universe request responses, and retest as needed. See the Eligibility Results Tab section of this article above for more details.
Untested Opportunities Tab
The Untested Opportunities tab allows you to test universe requests against the eligibility rules for an opportunity they haven't yet been tested against. This is necessary in two situations:
After adding a new opportunity to a universe that has already accepted applications.
After toggling on an opportunity that was previously toggled off, when the universe has already accepted applications.
Universal Application: Test Untested Opportunities contains more details.