Before running a report, you must build a data set. Once the data set has been built, you may use the data set to run a report. Follow the steps below to run a report.
Run a Report
To run a report using a data set you've previously built, click the Run Report icon next to the data set under the Reporting Data Sets tab.



If you've just finished building or making changes to the data set, you may click Run New Report within the data set once you click Save.



Your report should now open and the fields you've chosen should be populated with data.


You may organize the data in the report by using the following functionalities:
Save the report you have made by clicking Save New Report in the upper-right corner of your screen.


Enter the name and description of the report in the pop-up that appears, and then click OK.
Export a Report
Once you have run a report, you can export it to an Excel, CSV, or PDF document. The data will download to your computer once you've selected the file type. You may change the orientation of the PDF reports by configuring the Print Landscape Reports setting in your Site Settings page.
Click the export icon and choose your desired file type for the data.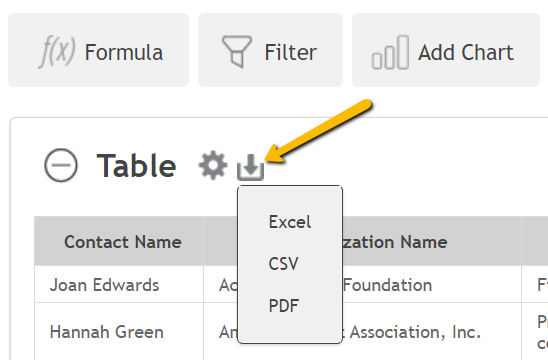 Even when you plan on working with the data in Excel, it is often easier to export to CSV, which will normally open in Excel.
Common Reports Video
This video explains some common reports that are built in the reporting tool and what information they display.