Access a specific account to view the details of that account plus the current balance of all funds that make up the assets or liabilities of the account.
Click the hyperlinked amount in the Balance column for a specific Fund will take you to the General Ledger and show you transactions in that Account for the current year.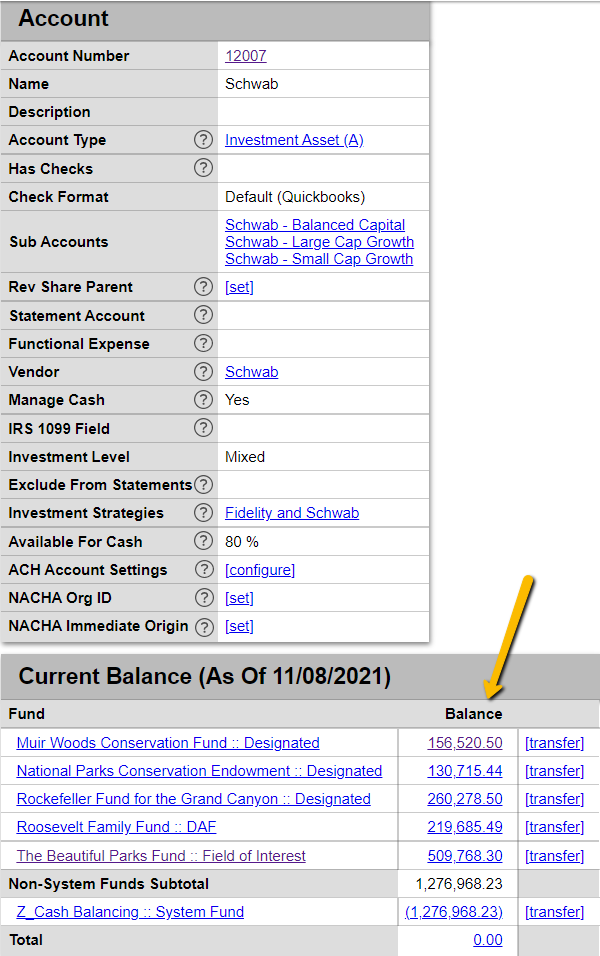 Click the [transfer] link next to any Fund balance is how you can initiate a Transfer from the Fund's assets that are located in that Account.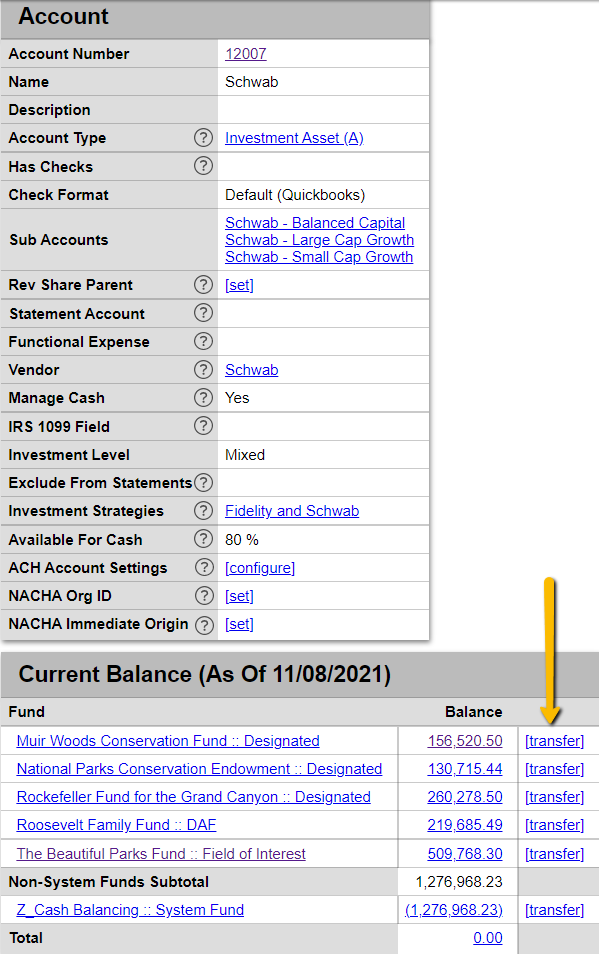 Options that can accessed from the left-side menu are listed below.

Transactions takes you to the General Ledger to view all transactions for the Account for the current month.

Click Reconcile to reconcile an Account (see Bank Reconcile for more).
Trial Balance shows the Account balance for a specific date (See Trial Balance for more).
Ref Balance shows transaction level references for accrual accounts - Grants Payable, Accounts Payable and Pledges Receivable (Advanced Accounting).
Click Checks for a shortcut to Checks. This is visible only for the accounts that have checks.
Click Add Fee/Interest to go to Vouchers where you can create a Statement Voucher for the Account.
Close Account allows you to close the account. If it is a default or required account, the system will not let you close it.
Show / Hide Zero Balance Funds shows Funds that are housed in the account, including those with a balance of zero.
Balance Swap redirects you to the Cash Balancing Fund where you can rebalance Fund balances from one account to another.
Click Add Note to add a note to an account.
Attach File allows you to choose a file to attach to the Account record for future reference.