The Donor report lists every profile that has ever made a donation. Each profile appears one time regardless the number of donations from that profile. The report will not include profiles with a donor designation who have not donated. The columns on this report are preset like other default reports. You can apply filters to the report. You can filter on any column that is available in the Donation custom report. The Donor report aggregates data from the Donation custom report, which lists one line per donation.
The main information on the report includes:
A summary of the giving from that profile, including total donations, count of gifts, and last gift date.
CRM data like profile types and org roles.
Primary contact information and communication preferences.
Giving Summary
Each profile that has made a donation is listed on its own row. When a household has donated, and two household members have also donated, each of the three profiles will be on its own row and reflect their own giving.
Advised donations are included in the giving summary for the donor, not the advisor. For example, Bill Alderidge, Mari Alderidge, and their household profile are each listed as a donation advisor on a donation made by Fidelity. In this report, the donation will be included in Fidelity's giving, since Fidelity is the donor.

There is a rollup option to combine household, household member, and advised donations into one line.
The giving summary includes:
Count - count of donations
Total - sum of donations
Max - largest donation amount
Latest - most recent donation amount
First Date - date of first donation
Last Date - most recent donation date
Years - giving by year

Year columns are populated for every year with donation history. If you've configured financial offsets in System Data, they will be factored into the year columns. For example, if you have a financial offset of -6 months, the numbers in the 2018 column will reflect donations from 2017-07-01 to 2018-06-30.

You cannot filter by these columns (you can export and sort/filter), but you can filter by other donation criteria such as donations to a fund or time frame by selecting Filter in the left-side menu. When any donation filters are applied, the giving summary columns adjust to reflect the filter. For instance, if a donor has donated 8 donations totaling $10,000.00, but 2 donations totaling $4,000.00 were to the Yellowstone Park Fund, when the report is filtered to donations to the Yellowstone Park Fund, the giving summary for that donor will reflect a Count of 2 and Total of $4,000.00. The other giving columns also adjust to reflect donations to that fund.
Pledges and promises are not included in the giving summary columns, but each pledge and promise payment is treated as a donation. Examples:
A donor pledges or promises $100,000.00 and has not made any donations toward that pledge or promise. That pledge or promise will not be reflected on this report.
A donor pledges or promises $100,000.00 and has made 2 donations of $25,000.00 toward that pledge or promise. The donation count will increase by 2, total will increase by $50,000, and the remaining columns will factor those pledge or promise payments in as donations.
CRM Data
The Donor report displays all Profile Types, Grant Type Interests, and Org Roles that are assigned to a profile so you can see all relevant criteria in one place.
Anonymity is indicated by No, Profile (profile is marked anonymous), or Donations (one or more donation from that profile is marked anonymous).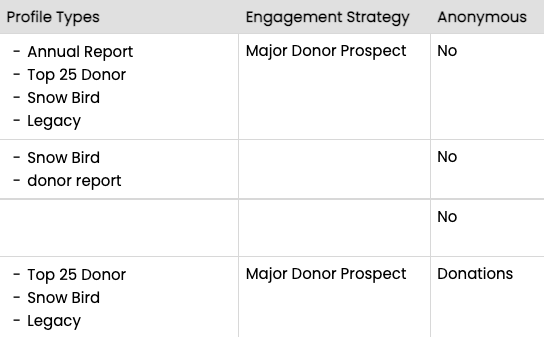 Contact Information, Preferences
The report displays the profile's Primary contact information and indicates Yes when the profile is marked Do Not Mail, Do Not Email, or Do Not Call.


Access the Report
The report can be accessed a few ways.
From the Home Screen, select Reports then Donor Report.


From the Home screen, select Donors, then Reports in the left-side menu.
From a fund record, click Donor Report. This creates a donor report that's filtered to that fund.