There are five types of custom fields. Think about your end goal when selecting a custom field type. If the field data will be valuable in reporting, think about how you would like it to display in reports and consider setting up some sample data and reports in your Sandbox site. The custom field type cannot be edited once created.
Dropdown
The dropdown field type is used to hold a list where the user can select a single option. A common use would be for coding. Examples include demographic (such as age range), population (such as ethnic background) coding, or school district coding. For example, if you would like to create a field to show which school district the grant was administered to, you could create a dropdown field like the example below.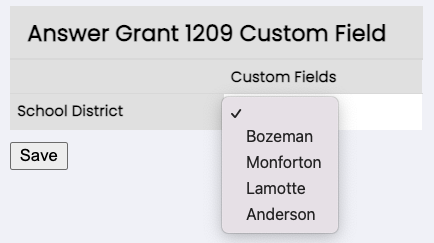 The dropdown menu display is ordered in the order the options were added. Values can be rearranged with the arrows.


There is no character limit for values. Keeping them short, 50 characters of less, improves the user experience since long values can make the user scroll over to see the entire value, especially at large resolutions.
Values can be renamed or inactivated. When a value is deactivated, existing records will still show that value if assigned, but it will not be available in the list to be assigned to new records. If a value is renamed, the new value will display on records that already had the previous value. For instance, let's say you have a profile field that's a dropdown with a list of possible values that are 1, 2, and 3. Later on, you change those to A, B, and C. When you do that, every profile that had a 1 will show an A, every profile with a 2 will show a B, and so on. If you shift your coding, consider whether deactivating values and adding additional values, or renaming values, will best fit your needs.
Multiselect
multiselect field type allows you to create a list of options where multiple selections can be made by checking one or more boxes in the field. For example, this field could be utilized to show the type of grant that is being administered. Multiple selections could be chosen if required.
The same notes as Dropdown apply for changing, rearranging, and inactivating values.
It's important to consider your reporting needs before choosing a multiselect field. When you report on a multiselect field, the report will show all selected values in a single field. You can still filter for an individual value. A dropdown field is a better option if you need to have each value in a separate column in reporting.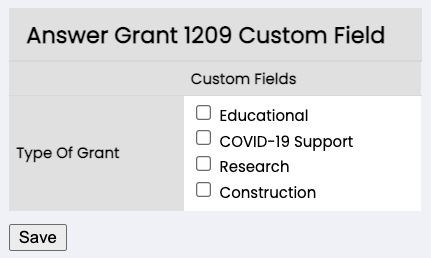 Nested List
The nested list field type allows you to create a dropdown list that has another dropdown list within it. Up to five levels of nested lists can be created. For example, if you want to designate both the type and purpose of a grant, you could utilize a nested list to create the first selection to determine the type of grant and use the second selection to further narrow it down and select the purpose of the grant. Like a dropdown field, you may select a single value within each nested list.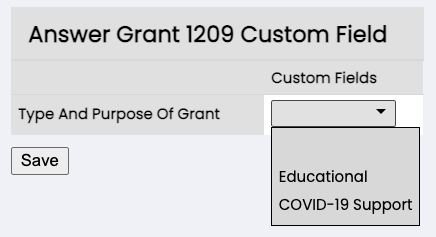 After selecting the first list option, the second list will appear in the format below. Each further list will appear in a similar format, until all lists have had an option selected.

Date Field
The date field allows you to collect a date in the MM/DD/YYYY format. This might be something like a review date or an anniversary where it can have a wide range of values. It must have a month, day, and year. If you want to track something that is part of a date (e.g. birth month only), you need to use an alternate field type.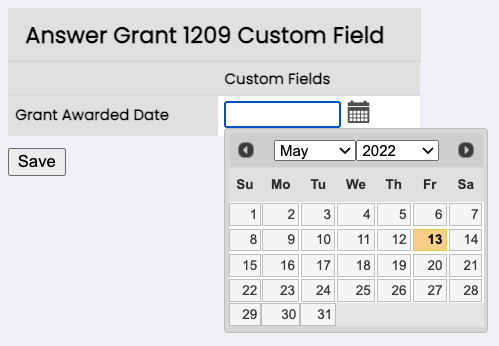 Text
The text field allows you to collect any form of text information, such as a description. Text fields can hold long text values, up to about 65,000 characters. Text fields are not standardized and are generally not used for reporting.