If a fund's spendable balance is not spent, it will remain in the spendable balance and will roll over to the next fiscal year. If you don't want this accumulation and if you want to reset the spendable balance each year before processing the new distribution, then follow the steps below.
Navigate to the Distributions page and click Clear Spendable in the left-side menu.
Select the As Of Date and enter the Reason for clearing the spendable, and then click Review.

The As Of Date is the date that the unspent spendable balance will be reset to zero.
The new distribution post date and the clear spendable post date cannot be the same. Set the clear spendable post date to one day prior to the desired new distribution post date.

Example: Clear spendable post date of 09/29 and new distribution post date of 09/30.




Check the box for each fund with a spendable balance that you want to reset to zero, and then click Clear Checked Balances.



The fund now has a spendable balance of zero. The system makes a reversing entry to back out the spendable amount.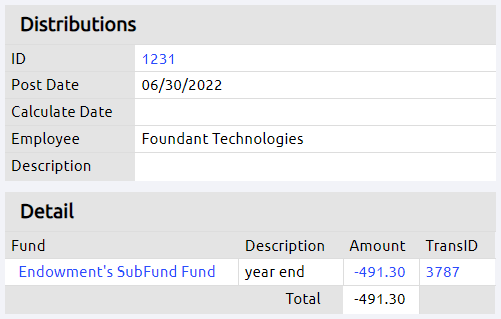 If you clear the spendable amount by accident, you will need to
manually
add the money back to the spendable balance.