Opportunities are a relationship management tool used to track specific strategies for an individual, household, or organization. The opportunities function is where you conduct moves management. They are individual project plans that enable you to move relationships forward and build a strategy.
Opportunities can manage relationships with or without donation goals. Examples of donation goals include new funds or bequests. Examples of non-donation goals include board member or professional advisor recruitment.
Nothing in opportunities has an impact on the general ledger, making opportunities a prime location to track bequest commitments or other commitments that should not impact the general ledger.
Capturing opportunities in the system retains valuable relationship management information which is especially valuable with employee turnover. Creating metrics with this data enables the organization to track progress, identify what is working, and create financial projections via success rates on solicitations and current donor pipeline.
Opportunities allow you to do the following:
Customize goals and stages to track time-oriented engagements with your constituents.

Assign and track tasks that drive these opportunities.

Record and track the important details of that relationship in order to propel it forward.

Track success rates of fundraising efforts and connect opportunities to gifts realized.

Track giving commitments without impacting the general ledger.
Create Opportunity Types and Stages
What major relationships does your organization drive and what strategies apply to a broad cross-section of actions your organization pursues? What relationships are you managing that have a long term goal?
Identify your relationship management priorities and start basic. You can easily add additional opportunity types and stages as the need arises but editing types and stages impacts data, and deleting is limited when a type or stage is in use.
Here are some examples of opportunity types and stages.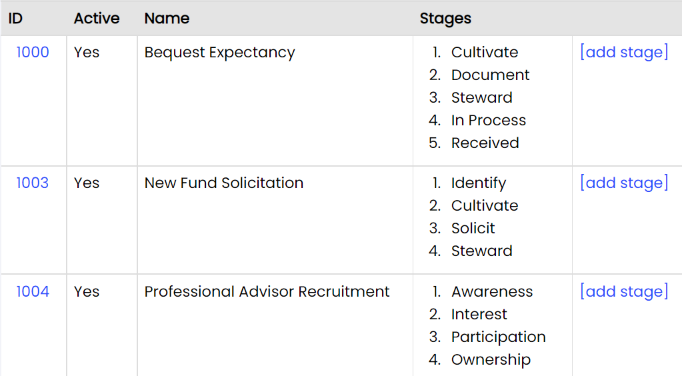 Assign Opportunities
Opportunities can be created individually or in bulk. Opportunities can be created in batch but cannot be bulk edited. When batch assigning opportunities, consider whether these opportunities will be managed on a 1:1 basis. If not, consider if opportunities is the best feature for this goal. Campaigns are better suited for tracking donations that don't require 1:1 activity.
The only required field when creating an opportunity is the type. Adding a target date and solicitation plan adds further detail for managing the relationship and reaching your goal. If the fund is known, this can also be populated. You can see a listing of all opportunities linked to a particular fund. Navigate to the fund and click Opportunities on the left-side menu.
Manage Opportunities
Once you have Opportunities assigned to profiles and have set up your task/note types, you can add tasks to opportunities to keep the relationship moving forward. You can assign tasks to anyone in your organization, and they will see the assigned task and due date on their list of tasks.
As you cultivate the relationship you're tracking in the opportunity, keep your information up to date.
Mark your opportunity tasks complete and add notes.
Add new opportunity tasks to drive strategy.
Update your Target Date, Solicited Amount, Committed Amount, and Fund as you learn more information.

When a Committed Amount is entered, Balance will appear on the opportunity. This value is the Committed Amount minus any donations or pledge/promise payments linked to the opportunity. When Committed Amount is blank, Balance is Solicited Amount minus any donations or pledge/promise payments linked to the opportunity.

If the opportunity type originally assigned is no longer the goal, change the Type. For instance, a major gift could change focus to bequest.
Update the opportunity to reflect the current stage.

The stage shown in black is the current stage. You can edit this by clicking another stage name.



Track Success Rates
If an Opportunity results in a donation and/or pledge and/or promise and is processed under the same record as the Opportunity, these can be linked to the Opportunity.
When an Opportunity is complete, use Mark Complete in the left-side menu to record whether the Opportunity was successful or not successful.
Import Opportunities
Are you using external systems to track relationship management? If so, you can import this data into CommunitySuite.