An Integrated Custom Field is a connected custom field that exists in CommunitySuite and GLM/SLM sites. The field data will update automatically between CommunitySuite and GLM/SLM. A custom field can be created in CommunitySuite and then added as an integrated custom field in GLM/SLM.
Custom Fields Overview provides additional information for the CommunitySuite side.
The responses to these questions can be entered by applicants or administrators. However, this likely will be done by administrators as these are generally fields used for internal or coding purposes.
Integrated custom fields are also available on organization profiles and user profiles in SLM.
Please reach out to
Support
to configure integrated profile custom fields as this involves editing your registration pages.
Adding a Custom Field
Click Add Custom Fields Question.


Select one of the questions from the list available.


This list is created from the available custom fields in CommunitySuite.
The GLM/SLM Instructions field is NOT the same as the CommunitySuite Description field, and it will not map over as such when integrated custom fields are synced.
In GLM/SLM, this question can only have a required type of optional or required. The visibility acts as a typical question and instructions do not save at this time.
Once a custom field question is added to a form, two arrows will appear next to the question label.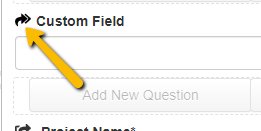 Once a request with a response to the custom field is synced to CommunitySuite, the custom field response will populate on the grant/scholarship record in CommunitySuite as well.
Custom fields should only be created in your Live site. Copying a Sandbox site process with custom fields into your Live site will not maintain the custom field's link.