CommunitySuite integrates with Guidestar and Ajah to verify the nonprofit status of organizations. United States nonprofits are verified through Guidestar, and Canadian nonprofits are verified through Ajah.
Prior to running a charity check, ensure the items listed below are in place.
In Grants Settings, enable either Enable Guidestar (for US clients) or Enable Ajah (for Canadian clients). Only one option can be used.
The (US) grantee must have an EIN entered in their profile. Foundations using Ajah must have the grantee's tax ID in the profile.
No Charity Status Check must be unchecked in the grantee record, which is the default setting on a grantee designation.
Run a Charity Check
There are three ways to run a charity check.
Option 1: From the Grantee Record
Navigate to the Grantees page and enter the grantee name in the Grantee field. Select the grantee from the drop-down list.

You can also click List in the left-side menu to view a list of all grantees. Click the ID of the grantee that you want to use. Then click Profile Is Grantee.



Click [guidestar charity check] or [ajah charity check] to pull the grantee's information from Guidestar or Ajah.

Click [show charity log] to view the charity check log.

Option 2: During Grant Processing
A charity check can be performed during grant processing by clicking [guidestar charity check] or [ajah charity check].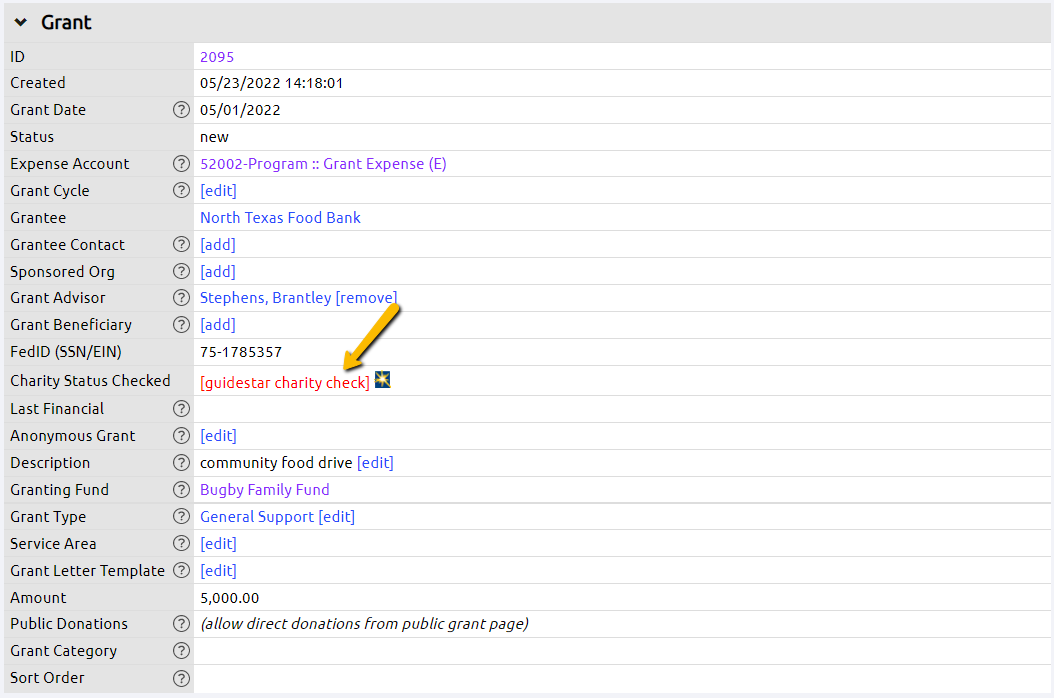 Create & Process an External Grant and Create & Process an Internal Grant provide additional guidance on grant processing.
Option 3: Bulk Run a Charity Check
When this option is selected, CommunitySuite looks at the Charity Check Interval in Grants Settings and the list of grantees. If a charity check has been performed on one or more of the grantees in the list, the answer from the grantee profile will be returned. A Guidestar or Ajah check will be performed on the remaining grantees.
Navigate to the Grants page and click the New Grant Bucket.
Click Charity Check All in the left-side menu.
Check the box next to the grants for which you want to run a charity check, and then click Run Charity Check.



Click [Yes] to confirm.

Charity Check Failure
If the charity check failed, then the options listed below provide further guidance.
Ensure the organization's EIN or tax ID is entered correctly.
The organization may be a chapter of a bigger organization/government body/school.
Reach out to the organization and have them send you the proof of their non-profit status.